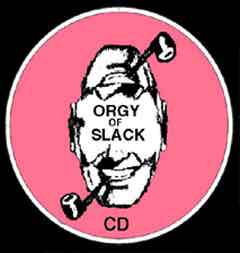 ORGY OF SLACK CD



KING OF SLACK - Doktor Bill T. Miller
1 - Circle Of Slack (Sacred SubGenius Ritual)
2 - X Day's A Comin' (and the Pinks are Bummin')
3 - Religion Is Poison (Slack is the Antidote)

KINGS OF FEEDBACK
4 - Used Slack (Buy Now, It's Slack!)
5 - Sacred Ground (Walk Upon...)
6 - Normal (Why Do Ya Wanna be Normal?)
7 - Fropman (I am the Fropman....goo goo ga choo)
8 - Slackfux Devival LIVE Doktorband Medley
"B-O-B" * "BOB" is a Sex God * Dobbs Approved
Welcome to the End Times * "BOB" Kills Pinks Dead
9 - Kill "BOB" (Original Studio anti-bob possession)

OUT of BAND EXPERIENCE
10 - Call Now! (via Stang HOS)
11 - Succubus (Alien Nympho Remix)
12 - SubG Spot ("BOB" & CONNIE Phone Sex)

LIVE SLACK
13 - Susie SquidFux For "BOB" with Dok BTM Noise
Lurking in the shadows: Rev. Stang, Father Legume, Pastor Craig,
Rev. Modemac, Ginsu, The Squirtin' Jeeezus Fuckin' Christ and a
Cast of MILLIONS of X-Day Drill '96 Mutants.
14 - You Stang - Dok BTM & Rev Stang DUET from Hell
15 - Eyes Of "BOB" - IrRev Friday with Dok BTM Noise

S L A C K B A N G E R S
DOK BTM - BRO CLEVE - REV. D.K. JONES
16 - Slack Bang Me, Baby (Ya Know What I Need)
17 - Surgeons For CONNIE (Ready to Operate)
18 - "BOB" IS LUV ("BOB" IS HATE)

MORE LIVE SLACK
19 - King Of Slack RANTS - Kings Of Feedback KILL LIVE!
Rev Nickie, Pope Meyer, Rev Stang. LIVE ORGY MIX
of Crusades, X-Drill, SlackFux Devival and MORE.

PRODUCED, ENGINEERED and MUTATED by BTM.
STUDIO trax recorded at HEADROOM STUDIOS.
LIVE trax from various Videos, DATs, Cassettes.

Tracks 4-6-7-9-12 are from the ALMOST out-of-print
OBE and KINGS OF FEEDBACK CD - Open Your Ears.
ALL others tracks have NEVER been on CD before.
KING OF SLACK's X-Day's A-Coming athem was only
on a limited cassette release and KOS-Religion Is Poison
and Friday's Eyes of "BOB" are is pure virgin slack.
YOU can HEAR the SquidFux X-Drill Orgy, but to really
appreciate it you SHOULD also ORDER the VIDEO from SubSITE.
OBE's Succubus Remix was only on a limited pressing 7 inch.
Track 5-Sacred Ground is from the UPCOMING full-blown
KINGS OF FEEDBACK CD. PLUS...of course the SLACKBANGERS
are the ultimate slack supergoop alliance.




ORGY OF SLACK CD

Doktor Bill T. Miller - King Of Slack,
Kings Of Feedback, OBE, Rev. Ivan Stang, Pope Meyer,
Slackbangers, Bro. Cleve Duncan, Rev. D. K . Jones,
Rev. Nickie, IrRev Friday, Rev Susie and "BOB"!

WHAT ARE YOU WAITING FOR?

DO IT NOW!



YOU know YOU havta have this CD, so why wait? DO IT!
YOU could LISTEN to this CD in YER CD PLAYER in a few days.
UNLEASH yer WALLET and whip that TEN SPOT out, NOW!

LIMITED PRESSING for SubGenius MUTANTS ONLY!
WHOLESALE DISTRO QUANITY PRICING is AVAILABLE.
THIS CD is ONLY available at SELECT DEVIVALS or
MAIL-ORDER DIRECT from BTM or the CHURCH !

Email Dok BTM with YER TESTIMONIALS!

SlackFux Testimonials...

J.R. "BOB" DOBBS sez.....
YOU must BUY this CD, NOW!
YOU will NOT be allowed on the Saucers on X-Day,
without yer SubGenius Membership Card and
an ORGY OF SLACK CD!

Rev Ivan Stang sez.....
Bill T Miller's new CD, ORGY OF SLACK, is truly
"THE" SubGenius CD, PUREST SubGenius CD, a brilliant
compilation of the very best stuff he's done over the last
ten years or so, PLUS the new SLACKBANGERS material with
Brother Cleve Dunkan and DK Jones. The Board of Directors here
has decided, in fact, to PUSH THE HELL out of "ORGY OF SLACK" as
THE "must-have" Church CD in our last-days P.R. attacks from now to X-Day.

Bill T Miller has got to be THE primo bulldada hard rock found-sound
collage acid-billy fropadelic wall-o-noise mix master of the outgoing
century -- AND the new! The perfect mix of Negativland-like uber-montage
soundbite editing, with decidedly un-Negativland like, strictly Millerian
millenarian power-chord killer hard core BIG GUITAR... a skull-ripping
headphone treat, as if The Firesign Theatre fell into the vat with Jimi
Hendrix (and Ed Kramer), and out the chute came Bill T. Miller.

ALL HAIL BILL T. MILLER, KING OF SLACK!!!



DAD Towsend sez...
esacape from the bad vibes....
1. GO to http://billtmiller.com/
2. BUY the new "Orgy of Slack" CD for $10
3. LISTEN to the 3 Slackbangers tracks, "Slack Bang Me, Baby,"
"Surgeons For CONNIE" and ""BOB" IS LUV ("BOB" IS HATE)".
4. REPEAT, repent, and SLACK OFF!! (intense echo effect here)

IrRev Friday sez....
5. Attend the Boston SubGenius Devival and be SHAKEN by the
ANTI-ANTI-MUSIC until all those bad vibes are CANCELLED OUT.
Also, you can buy Bill T. Miller's CD at the Devival!

Dok BTM sez....
6. DON'T wait even one more minute to BUY THIS CD...MAIL-ORDER
it NOW! I made THIS CD for YOU!

Popess Lilith sez......
You're speaking SENSIBLY AGAIN. What did I tell you about that
crap? But yes, he's absolutely RIGHT--I just got my "Orgy of Slack"
CD and have a new excuse all together. EET GOOD. In fact, ALL of the
new tracks are even BETTER than the classic BTM we *thought* were
Instant Slakfuk Hits! It's just about enough to make me buy a plane
ticket to Boston to catch them at the NEXT FINAL DEVIVAL.

Rev Carey sez..
Yeah, that's some good fucking SHIT!!!
Get that CD, hand a dobbshead on your speakers, frap it up
and meditate. YOU *WILL* COMMUNICATE WITH "BOB"!
Careful, though, you may be frightened by what you hear.
And I'm not just talking about the CD.

J. Lianna Ness (non-SubG reviewer for The NOISE zine) sez....
Normally, I can't relate to this kind of screwball mental noise
weirdness...but the samples and dialog were all so funny and
interesting, I just couldn't turn the damn thing off!

Mr. Joeseph Kojronski, Sr. of
Christian Coalition for Conservativism in Music, sez.....
This CD is nothing but the most debased filth that can be assembled
into a single electronic medium. Not only does it push the limits of decency,
but it lacks any semblance of musical "taste" whatsoever.

rev. jim jack jones sez....
CLOSE THE DOORS, LOCK THE WINDOWS AND TURN UP THE BEST
FUCKIN' ANTI-MUSIK ORGY IN EXISTANCE! SOOO INTENSE IT'LL
BLOW YOUR PITIFUL LITTLE PINK MIND! TURN IT UP UNTIL YOUR
EARS BLEED AND THE NORMS RUN SCREAMING!
PURE AUDIOPHILE SLACK!
p.s. to all you lazy slackless SOBs out there: get off your ass
and buy this CD -- it may be the only chance you'll ever get at
true slack! (certainly it's the most you'll ever get fer a mere 10$)

Steve Slack sez....
I listen to it at 'work' when the Pinkies are away. The
Slackbanger rays seep into the walls and infects my
bosses when they return. As a result, they now HAND
ME MONEY for doing NO WORK AT ALL! Can any other product
claim such benefits? I THINK NOT!! This is CYBERJUNK
in its' purest form!

Rev. Pee Kitty sez....
Dammit, just buy the frickin' CD.....$10. You can NOT find a better
use for your stupid ten dollars. If you've gotta go two days without
eating, grin and bear it...you won't regret it. ......Check out Pee Kitty's
Full-BLOWN CD Testimonial SPEW!

Rev. Modemac sez...
It is IMPOSSIBLE to listen to this CD without getting an erection.
If you don't have a penis, you'll STILL get an erection. Listen to
this CD and find out HOW! DOWNLOAD FULL-COLOR FRONT CD COVER
and CHECK OUT Rev Modemac's
Full-BLOWN CD Testimonial SPEW!

Susie the Floozie sez....
THE (ORGY OF SLACK) CD IS BEYOND FUCKING FABULOUS!!!!!!
SEND ME ONE WITH A DILDO ATTACHMENT,
IT'S GOOD ENOUGH TO FUCK!!!!!!!
Man, oh manischevitz, Bubba, you done good. Fuuuuuuuuh.
You truly put the GENIUS into SubGenius, Baby!




Did YOU make it to THE FINAL, FINAL DEVIVAL?
ORGY OF SLACK CD RELEASE BLOWOUT GIG!
BOSTON SubGenius DEVIVAL April 23-'98
Middle East (upstairs) - Cambridge MA - 18+
Rev. Ivan Stang, Doktor Bill T. Miller-King Of Slack,
Brother Cleve, Rev. D. K. Jones, Slackbangers, Pope Meyer,
Father Legume and IrRev Friday Jones!




---

DOWNLOAD EVEN MORE BTM SLACK SOUNDS
MP3 ORGY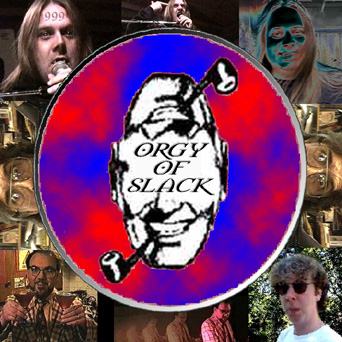 Modemac mutated this special front cover for the ORGY OF SLACK CD.
Click on above picture to download the 34k jpg cover.
Then print it out with a color printer for a deluxe CD cover.
Thanx Stang, Lies, and Rev. Modemac!
---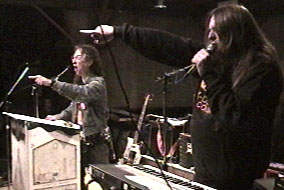 Rev Stang and Dok BTM at X-Day Drill '97!
"YOU RANG?....We're here for yer SOULS!"
---
ORGY OF SLACK
SubSITE
BTM ORGY